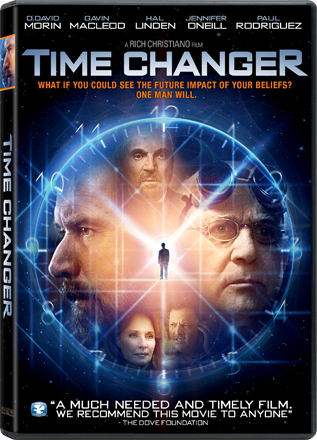 "Time Changer is a great film, entertaining, challenging and cleverly crafts a telling parable.  We totally support this movie."
- American Family Association
"I just saw the movie Time Changer. Absolutely EXCELLENT! The message is profound and much needed in this day and age we are living in. Thank you for this production."
- Robin Knotts, WV
"Time Changer has a powerful message that is so relevant to church members today. I would highly recommend any church to have this Christian motion picture event in their church."
- Titusville Church, FL
What if you could see the future impact of your beliefs? One man will...
This text will be replaced
The year is 1890 and Bible Professor Russell Carlisle has written a new manuscript. His book is about to receive an unanimous endorsement from the board members at Grace Bible Seminary until his colleague, Dr. Norris Anderson, has a "difficulty with something."

Dr. Anderson believes what Carlisle has written could greatly affect future generations. Using a secret time machine, Anderson sends Carlisle over 100 years into the future, offering him a glimpse of where his beliefs will lead.