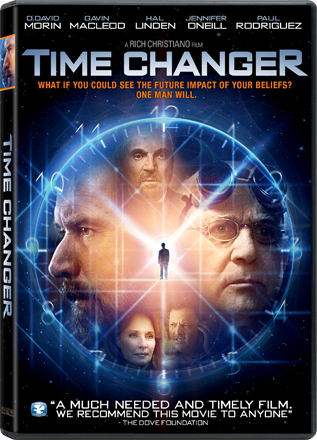 "Time Changer is a great film, entertaining, challenging and cleverly crafts a telling parable. We totally support this movie."
- American Family Association
"I just saw the movie Time Changer. Absolutely EXCELLENT! The message is profound and much needed in this day and age we are living in. Thank you for this production."
- Robin Knotts, WV
"Time Changer has a powerful message that is so relevant to church members today. I would highly recommend any church to have this Christian motion picture event in their church."
- Titusville Church, FL
church screenings
To schedule your public group showing of TIME CHANGER
please contact Rich Christiano at 1-949-215-9121
or email christianofilmgroup at gmail.com

Your support enables us to produce more Christian films!
comments from viewers
"This movie is divinely inspired,it should be shown in every theatre, church and home. It shows how we are all responsible as individuals for allowing society to fall. I highly recommend this movie. And watch it many times as you will see different things each time." - Pauline

"Shows in truth what the generations have lost, what they have embraced. Well done, thought provoking. This one really shines the light into areas that have tended to be covered in a slow decline. Every life can have change following watching this movie." - Barb

"An excellent message and a quality production. It was a topic not really covered by any other Christian film I have ever seen. That morality alone does not make you a Christian. The emphasis on a personal relationship with Jesus is not diluted or washed over. I was very impressed and moved by this film. Great to show new converts." - Jim

"Excellent movie that was realistic and life changing movie. It will make people deal with real issues in their life. Gavin Macleod is wonderful in this movie." - Kim

"Best movie I have watched in years. This shows the downward change in our country" - Mark

"We had to rethink our movie choices after watching Time Changer. We realized that we were allowing a lot of subtle things to creep into our lives. Awesome movie!" - Cindy